Are you fascinated by the awe and wonders of all things space?…
If so – then this event is for you!
Join MajorTim.space for Space Quest
A one night only line-up of fantastic celebrity guests to celebrate World Space Week 2020.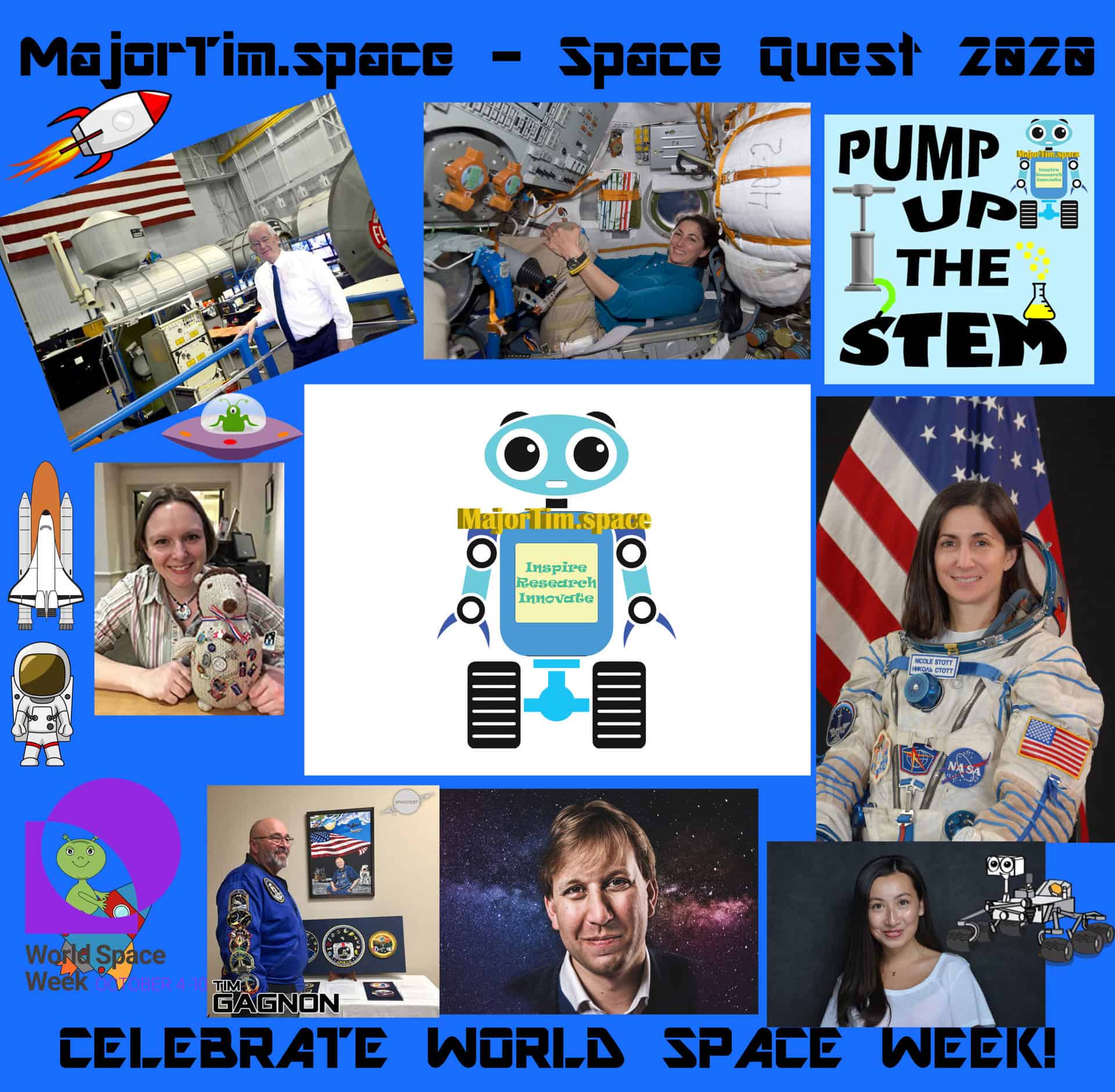 The evening will be hosted by Amelia Jane Piper (CEO/founder of MajorTim.space).
The event will consist of a talk by Vix Southgate – World Space Week National Coordinator for the UK, Author and manager for VIPs
A chat with Sophia Lee- Roberts – Chair of UKSEDS
Plus, an 'out of this world' special guest – Nicole Passonno Stott – An astronaut and artist who creatively combines the awe and wonder of her spaceflight experience with artwork.
She's a veteran NASA Astronaut with two spaceflights and 104 days living and working in space as a crew member on both the International Space Station (ISS) and the Space Shuttle.
Not forgetting an interview with Herb Baker (NASA) by our PUMP UP THE STEM 2020 competition Champions –
5-8 category winner – Marthy Rose Hill-Davis (age 6)
13-18 category winner – Emilie Heather (age 13)
Most Enthusiastic Presenter category winner – Tom Jones (age 9)
Most Amusing Video category winner – Millie Davies (age 8)
Also, a personal video message from Professor Chris Lintott – best known as co-presenter of BBC's Sky At Night.
Tim Gagnon – an artist who has worked with NASA Astronauts designing their mission patches, will give an in-depth insight into his work.
Join us on Sunday (11th October 2020) at 6pm(BST) as we launch you into the wonders of space!
The audience can ask our speakers questions in the comments on YouTube – we will try our best to answer all.
Click here to attend the event on YouTube –