NASA astronaut Nick Hague and Roscosmos cosmonaut Alexey Ovchinin are safe and have returned to Moscow with mission officials after their aborted mission.  The Soyuz MS-10 rocket booster experienced a failure about two minutes after launching from the Baikonur Cosmodrome in Kazakhstan.  Hague will return to Houston, Texas on Saturday and Ovchinin will stay in Moscow.  Investigations into the cause of the failure are beginning and the space station international partner agencies are evaluating what changes to the station's operating plan will need to be adopted.
The three humans still orbiting Earth are safe with plenty of supplies and work to do on orbit.  Commander Alexander Gerst and Flight Engineer Serena Auñón-Chancellor started their day measuring how microgravity has impacted their muscles for the Myotones study.  They then moved on to researching an ancient technique that may be used for emergency navigation on future space missions.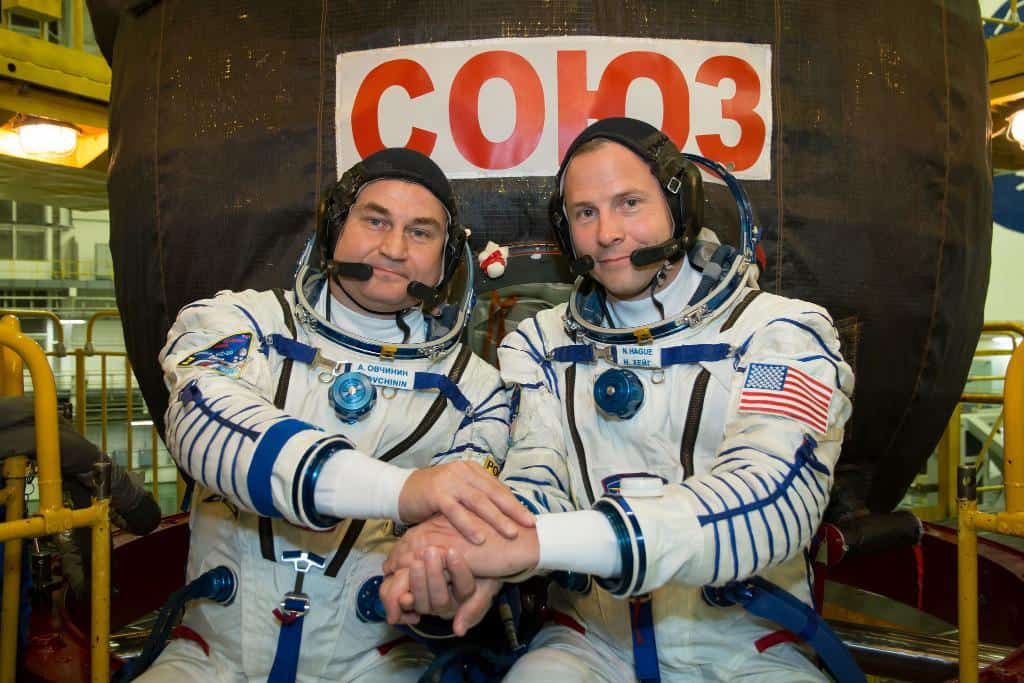 Shortly after taking off from Baikonur Cosmodrome in Kazakhstan, Nick Hague and Alexey Ovchinin reported a problem with the rocket's booster.
The crew were forced into a "ballistic descent", with their capsule landing a few hundred miles north of Baikonur.
They have been picked up by rescuers.
"The search and recovery teams have reached the Soyuz spacecraft landing site and report that the two crew members… are in good condition and are out of the capsule," US space agency Nasa said.
Russia said it was suspending any further manned flights and an investigation into what went wrong had begun.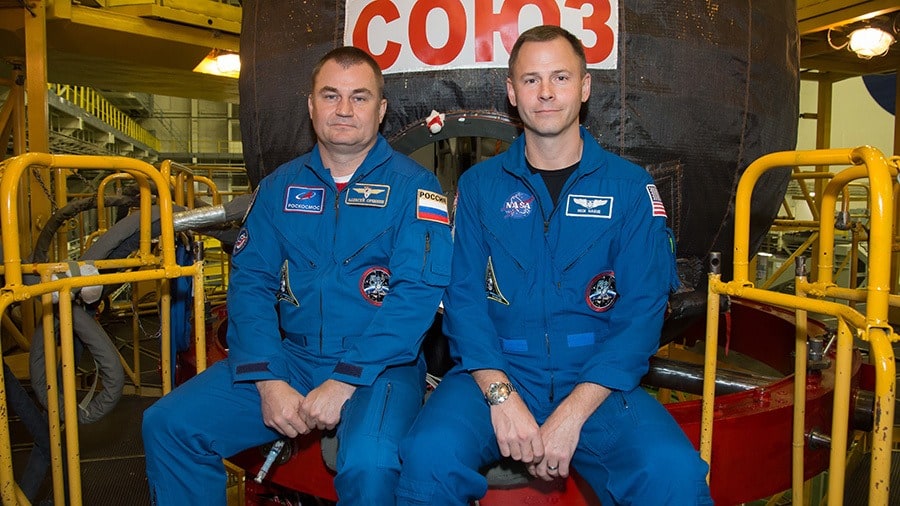 What happened to the rocket?
The launch appeared to be going smoothly, but some 90 seconds later Nasa, on its livestream, reported that a problem seemed to have occurred with the booster rocket between the first and second stages of separation.
Footage from inside the capsule showed the two men being shaken around at the moment that the fault happened.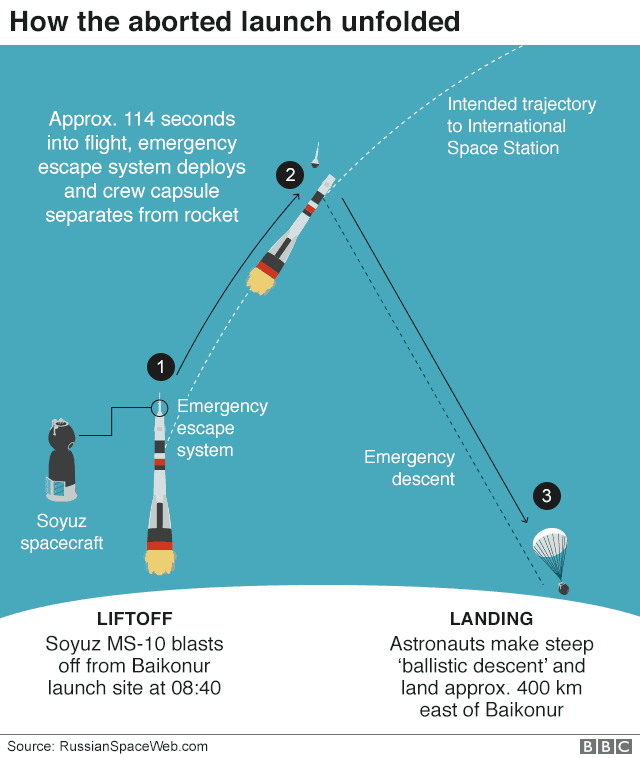 Shortly afterwards, Nasa said they were making a "ballistic descent" meaning their capsule descended at a much sharper angle than normal and would have been subjected to greater G-force – the force imposed on a body by rapid acceleration.
The capsule separated from the failing rocket and later deployed parachutes to slow its descent.
An uncomfortable ride back to Earth
Soyuz is one of the oldest rocket designs but also one of the safest. The malfunction appeared to occur around what is termed "staging", where the ascending vehicle goes through the process of discarding its empty fuel segments.
The onboard astronauts,  were certainly aware that something was not right,  because they reported feeling weightless when they should have felt pushed back in their seats.  The escape systems are tested and ready for exactly this sort of eventuality.  However, it would have been an uncomfortable ride back to Earth.  The crew would have experienced very sharp accelerations and decelerations on the return.
There is already much discussion about the current state of Russian industry and its ability to maintain the standards of yesteryear.  Whatever the outcome of the inquiry, this event will only heighten those concerns and will underline to the US in particular the need to bring online new rocket systems.  These vehicles, produced by the Boeing and SpaceX companies, are set to make their debut next year.
How are the crew?
They seem to have been unharmed by the experience.
Search and rescue teams were quickly on the scene, 500km (310 miles) north-east of Baikonur, near the Kazakh city of Dzhezkazgan.
They reported that Mr Hague and Mr Ovchinin were alive and well and the Russian civilian space agency, Roscosmos, later issued photos of them having their hearts and blood pressure monitored.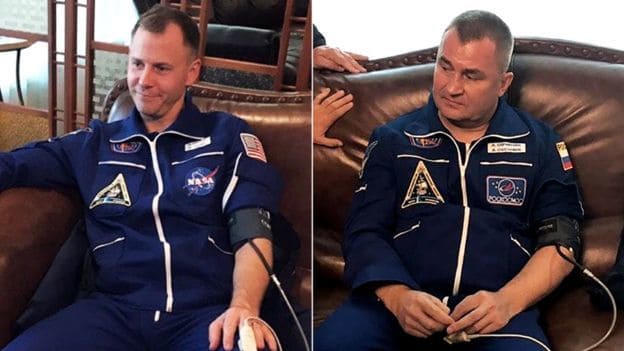 "The emergency rescue system worked, the vessel was able to land in Kazakhstan… the crew are alive," Roscosmos tweeted.  Nasa described them as being in good condition.  They reportedly did not need medical treatment.
Nasa added that the two men were being taken to the Gagarin Cosmonaut Training Centre outside Moscow and they were "monitoring the situation carefully.
What happens now?
Russia's Deputy Prime Minister Yuri Borisov said no further manned missions would take place "until we believe that the entire situation guarantees safety".
He rejected suggestions it could harm US relations, saying they recognised it was a "hi-tech industry linked to risk", but he added: "We certainly won't conceal the reasons, it is uncommon for such situations".
Space co-operation is an area which has survived otherwise tense relations between Russia and the US.  Nasa has been paying for seats on Soyuz rockets to ferry its astronauts to the International Space Station since the Space Shuttle programme ended in 2011.
The crew already on the ISS will not be affected by Thursday's aborted mission, Russia's Tass news agency reported, quoting an unnamed source as saying they have enough supplies.